Copyright ©2005-2015
KORE3 Industries LLC
All Rights Reserved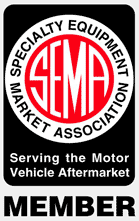 Passionately Pink Camaro...one car's journey in a race for the cure. KORE3 is proud to be the brake sponsor for this build and hopes that you will follow this amazing car via the online blog documenting the build process, then the car's debut at SEMA 2011 where it was parked in the Hot Rod Alley Central Hall, booth #24651, and finally at the Optima Ultimate Street Car Invitational event and beyond. Ultimately, the Passionately Pink Camaro will be auctioned at Barrett Jackson where all proceeds will go to support the Susan G. Komen Foundation, a non-profit organization committed to putting an end to breast cancer forever. This is a great build for an even greater cause. If you would like to support the cause that inspired the Passionately Pink Camaro, and we hope you will, please click the following link and make donations directly through the Susan G. Komen foundation's website donation form. Please note that 100% of your donation goes directly to the foundation. Every donation is much appreciated, no matter how small.

Welcome to KORE3 Industries. We offer high quality, performance disc brake conversion kits and chassis components for the automotive enthusiast. We're continually innovating new applications and customizing old ones for those looking for that ultimate driving experience. We also offer our complete line of fully customizable, DOT compliant, FlexKORE™ braided stainless brake lines that can be configured for nearly any imaginable application.

KORE3 is now proud to offer the full line of DBA (Disc Brakes Australia) rotors for all current DBA applications, including C5, C6, C6 Z51, and C6 Z06 applications. Please call us for pricing and availability while we work to add these products to our website. You can visit DBA's website at www.dba.com.au for more information or view their online catalog by clicking HERE.
If you have any questions or comments regarding our products or services, please don't hesitate to contact us.




| | | |
| --- | --- | --- |
| | | |
| KORE3 Big-Brake Kits | | Aluminum Big-Brake Hubs |

| | | |
| --- | --- | --- |
| | | |
| Rear Disc Brake Kits | | FlexKORE™ Brake Lines |
KORE3 News:

Notice: Front red C6 Z06 calipers are currently back in stock in limited quantities.
Also, we're a new distributor for Hydratech Braking Systems™, the industry leader in hydraulic brake assist conversions for the pro-touring market. While we're updating our website, please let us know if you have any questions concerning their hydraulic brake assist systems.

- Big-Brake Kits
- Billet Aluminum Hubs
- FlexKORE™ Hoses

CLOSED:
KORE3 will be closed July 3, 2015 in observance of the holiday.


KORE3 Industries LLC
30659 Hwy 34 SW
Albany, OR 97321

Sales: (800) 357-5467
Tech: (541) 924-5673
info@kore3.com