Copyright ©2005-2019
KORE3 Industries LLC
All Rights Reserved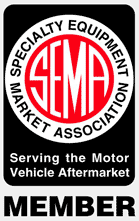 Frequently Asked Questions...
The following list of FAQ's has been compiled for your reference. It is continually being updated so please check back often. If you have any questions that are not on this list for a specific product or application, please do not hesitate to contact us.
Q: What does "C5", "C6" and "C7" refer to on this website and in KORE3 documentation?
A: "C5" is a designation for the GM Corvettes manufactured from 1997-2004 and it serves to indicate the Corvette generation. Thus, "C5" equates to "fifth generation Corvette". "C6" is the Corvette generation from 2005-2013 and the "C7" Corvette generation begins in 2014.

Q: My Ø17" wheels interfere with the face of the caliper according to the Ø325mm C5/C6 wheel fitment template. Does KORE3 offer a big-brake kit utilizing the Ø13" HD C4 rotors for increased caliper face clearance?
A: No, KORE3 does not offer a big-brake kit utilizing the Ø13" HD C4 rotors at this time, nor do we plan to in the future. The primary reason we don't offer it is because the C4 rotor is only 28mm thick, 4mm thinner than the 32mm C5/C6 rotor, which is not ideal for use with C5/C6 calipers, pads and pad abutment brackets.

Q: Can I use wheel spacers to gain clearance between the wheel and the face of the caliper?
A: Yes, you can. We should however point out that wheel spacers are not recommended by the Wheel Industry Council, and may or may not meet certain legal requirements. That being said, wheel spacers can be a very effective means to gain additional (within reason) clearance where required. If you think about it, the slip-on rotors are technically wheel spacers.
Q: Are the red C5 ZO6 calipers different or better than the standard black C5 calipers? What about the C6 2-piston calipers?
A: C5 Z06 calipers are functionally identical to the standard matte black C5 caliper. The C6 front caliper however is 20-30% more rigid than the C5 front calipers thanks to heavier ribbing across the bridge. As such, we no longer stock the C5 black calipers since the C6 2-piston front calipers are superior and cost comparable.
Q: Why do some calipers have the "Corvette" logo machined off?
A: Only GM can market and sell calipers with the "Corvette" lettering on them due to trademark laws. Both PBR (the OE manufacturer for the Corvette C5/C6 calipers) and the remanufacturing companies must remove the logo since it is not technically an original GM part if it is not sold through GM. This can be useful if your wheels are particularly close fitment. Calipers without the logo have about .060" to .080" [1.5mm to 2mm] more clearance between the caliper face and spokes of the wheel relative to GM calipers with the logos.
Q: Can I use LS1 calipers with your C5/C6 based big-brake kit conversion brackets?
A: Yes, LS1 calipers will interchange with the C5/C6 calipers, however C5/C6 calipers are more rigid and have a longer service life since they are pressure cast versus gravity cast, have full length stiffening ribs, and have Ø40.5mm versus Ø43mm pistons. Please note that the caliper abutment brackets are not interchangeable due to different overall heights between the mounting holes and the caliper pin locations and different sized mounting hardware. KORE3 big-brake conversion brackets are compatible with C5/C6 pad abutment brackets only.
Q: Do the KORE3 big-brake kits change the track width from stock?
A: KORE3 big-brake kits are designed to minimize track width changes, however this varies by application as listed below. Rear track width changes increase by the difference in thickness between the OE drum/rotor and new rotor hat, typically +.15" to +.18" each side for drum applications.
KORE3 GM Short-Spindle Kit:
Drum (Chevy): +.20" [5mm] per side
Disc (Chevy): -.24" [6mm] per side
KORE3 GM Tall-Spindle Kit: -.030" [.76mm] per side
KORE3 GM F-body (82-92) Kit: +.30" [7.6mm] per side (same as 1LE)
KORE3 GM F-body (93-02) Kit: +/-.00" [0mm] per side (stock width)
KORE3 Early Impala (58-64) Kit: +.20" [5mm] per side
KORE3 1998-2005 2WD Blazer Kit: +/-.00" [0mm] per side (stock width
Q: What is an adjustable proportioning valve?
A:&nbsp A proportioning valve controls the rate of increase in pressure rise to the rear brakes as they are applied with increasing force. In simple terms, it reduces the pressure supplied to the rear brakes to help keep them from locking up as weight transfers from the rear tires to the front tires under higher deceleration rates. An adjustable proportioning valve gives you the ability to change the pressure at which the decrease in rear line pressure occurs ("knee point") relative to the front line pressure to suit your vehicle setup and driving style. Proportioning valves are not intended to correct for major component mismatches and should not be used for those purposes.
Q: Can I run front calipers/pads/rotors in the rear?
A:&nbsp Maybe, but we don't recommend it. Assuming you intend to run the same calipers, pads and rotors on both ends of the car, you create a 50/50 brake balance when it should be closer to 70/30 or 75/25 for most muscle car pro-touring applications. The only way to correct for this major imbalance is to run a dual master cylinder setup with two master cylinders, one for the front and one for the rear, so that you can stagger the bore sizes correspondingly to offset the component mismatch at the wheels. Though it can be made to work, it will never function as optimally as a properly sized and balanced system.
Q: Does KORE3 offer original equipment style rubber brake hoses?
A: No, KORE3 does not sell OE style rubber brakes hoses. KORE3 FlexKORE™ DOT braided Kevlar®/stainless hoses out-perform and out-last OE style rubber hoses.
Q: Are your FlexKORE™ brake hoses DOT (US) and TUV (Europe) compliant?
A: All FlexKORE™ brake hoses are DOT compliant (FMVSS-106). They have not yet been tested for TUV compliance and are thus recommended for off-highway use only in any city, county, state/province, or country that requires TUV compliance at this time.
Q: Why don't FlexKORE™ hoses have additional support at the fittings, such urethane sleeve, similar to many other DOT hoses?
A: FlexKORE™ hose assemblies don't require the use of additional external support at the fittings because the fittings and hose have been designed and manufactured as an assembly to comply with DOT test requirements without these aids. Typically, conventional two layer Teflon® braided stainless steel brake hose construction fails the "whip" portion of the DOT test criteria due to fraying of the wire braid at the fittings which can then lead to fitting pull-off, loss of pressure, etc.
Q: Do you offer powder coating on your brackets, calipers, etc?
A: No, we do not offer powder coating at this time. Additionally, we do not recommend painting components where it could possibly compromise the safety of the application. Paint between clamped surfaces can yield unreliable mounting and increase the chance of future fastener and/or component failure.
Return to top
KORE3 News:

Notice: C6 Z06 caliper availability is limited. Please contact us for current stock and color options.
KORE3 is now offering products by Hydratech Braking Systems™, the industry leader in hydraulic brake assist conversions for the pro-touring market. While we're updating our website, please let us know if you have any questions concerning their hydraulic brake assist systems.

- Big-Brake Kits
- Billet Aluminum Hubs
- FlexKORE™ Hoses

Upcoming Closures:
KORE3 is continuing operations in a limited capacity during the unprecedented COVID-19 coronavirus pandemic, however we will continue to do what we can, when we can, without putting ourselves, our customers or our community at unnecessary risk.


KORE3 Industries LLC
32885 HWY 99E
Tangent, OR 97389

Tech: (541) 924-5673
Sales: (800) 357-5467
info@kore3.com