Copyright ©2005-2014
KORE3 Industries LLC
All Rights Reserved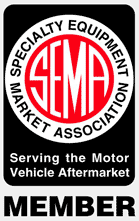 ---

---

---

---

---

---



KORE3 News:

Notice: KORE3 will be closed Friday, July 4th, but will be back the following week M-F, 7-5 PDT, at which time all phone messages and emails from the holiday weekend will be returned.
Also, we're now a distributor for Hydratech Braking Systems, the industry leader in hydraulic brake assist conversions for the pro-touring market. While we're updating our website please let us know if you have any questions concerning their hydraulic brake assist systems.

- Big-Brake Kits
- Billet Aluminum Hubs
- FlexKORE™ Hoses

Special*Special:
Perfect for the weekend warrior street/track car with 325mm C5/C6 front brakes. Ultra heavy-duty, directional vane DBA C5 front rotors (067SL/SR) on clearance - $250.00/pr.


KORE3 Industries LLC
30659 Hwy 34 SW
Albany, OR 97321

Sales: (800) 357-5467
Tech: (541) 924-5673
info@kore3.com